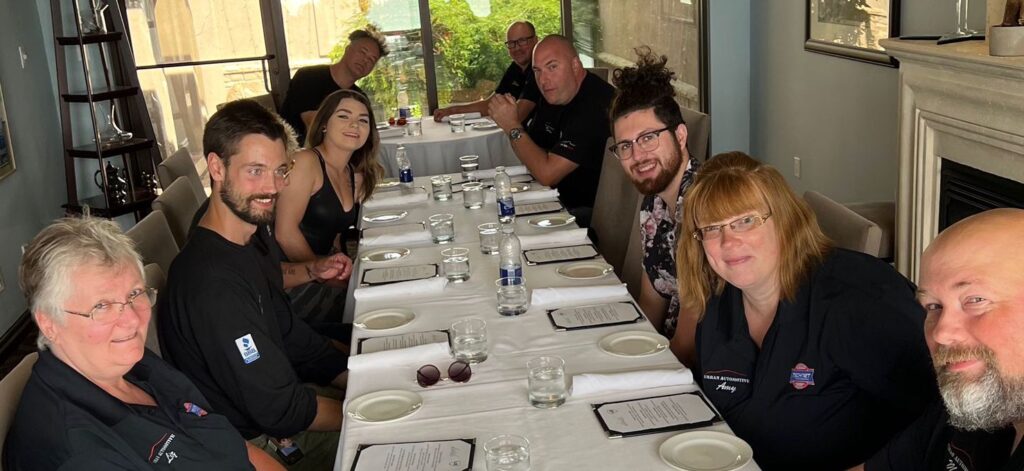 At Urban Automotive, we believe in not just providing a service, but creating an experience. From the moment you drive into our Oakville auto service shop to the time you leave, you're not just a customer – you're part of the Urban Automotive family. These core values aren't just words on a page; they're the principles we live by every day.
We understand that choosing a mechanic can be daunting. Will they do a good job? Will they charge a fair price? Can you trust them? With Urban Automotive, you can put those worries aside. Our core values are our promise to you. They guide every oil change, every brake job, every interaction.
---
Urban Automotive: Driving Excellence in Every Mile
At Urban Automotive, we're not just in the business of cars – we're in the business of exceptional service. Our commitment goes beyond the shop floor and into every aspect of our operations. Discover the values that fuel our drive and set us apart:
Core Values
1. Strong processes are our foundation:
We leverage years of experience to generate consistent, quality results. Our success is based on adherence to best practices.
2. We honor commitments:
We stand by our words and actions. Our customers and team members can trust us to fulfill our commitments.
3. We are all in the customer service business:
Whether dealing with internal or external customers, our goal is to exceed expectations.
4. We are passionate about Urban Automotive and our mission:
We understand the concerns of our customers and devote our energy, enthusiasm, and passion to help them.
5. We listen generously:
We give undivided attention to the needs and priorities of others. Listening is more than simply "not speaking," it's understanding.
6. We recognize the power of beliefs to influence action:
A positive attitude influences those around us, leading to positive action and greater results.
7. We speak the unvarnished truth:
We communicate clearly and directly, ensuring understanding and eliminating confusion.
8. We practice blameless problem-solving:
We focus on solutions, not blame. Mistakes are opportunities for learning and growth.
9. We set and ask for expectations:
Mutually understood expectations prevent misunderstandings and guide perceptions.
10. We embrace change:
Change creates energy and excitement. The faster we adapt, the stronger and more successful we become.
11. Appearance counts:
Our personal appearance, our office, and shop reflect the quality of our work. We ensure a professional image at all times.
12. We are punctual:
We respect the value of time – yours and ours. Being on time for shifts, phone calls, meetings, and promises is a priority.
13. We appreciate and acknowledge:
We believe in giving, receiving, and asking for meaningful, timely, specific, and impactful appreciation and acknowledgment.
14. We ask first, judge later:
We gather facts and ask questions before making judgments. There's always more to the story.
15. Urban Automotive is family:
We deeply care about our associates, our customers, and our partners. We create personal connections that make a difference.
16. We keep things fun:
We strive to be lighthearted and smile. We believe in laughing every day!
17. Do the right thing:
Integrity is our core. We make decisions that build strong, trusting relationships. We are committed to doing the right thing in every action and decision, even when no one is looking.
18. Bring it every day:
We maximize our contribution by using time effectively and approaching every task with energy, focus, purpose, and enthusiasm.
19. Check the ego at the door:
Our egos and personal agendas never get in the way of doing what's best for the customer and the company. We ensure every decision advances Urban Automotive's goal: to act in the best interest of the vehicle and the customer.
20. Make quality personal:
Quality is personal at Urban Automotive. We take pride in everything we do and touch. We always ask ourselves, "Is this my best work?"
21. Be performance-driven:
We appreciate effort, but we reward and celebrate results. We are not afraid of metrics or accountability. We are committed to our mission and hold ourselves accountable for results.
22. Go the extra mile:
We do whatever it takes to accomplish the job – plus a little bit more. We believe in going the extra mile that separates the average person from the superstar.
23. Continuously improve everything you do:
We are in a never-ending pursuit of improvement. We constantly evaluate and re-evaluate every aspect of our jobs.
24. Take responsibility:
We take full responsibility for our success. We identify what we don't know and find a way to learn it. We ask for what we need.
25. Be a source of acknowledgments and appreciation:
We regularly give, receive, and ask for meaningful appreciation and acknowledgment.
---
At Urban Automotive, we live these values every day, driving us to provide the best service in Oakville. Trust us with your vehicle – we've got the integrity, the passion, and the commitment to provide you with an automotive experience like no other. Experience the Urban Automotive difference today!